By Anandi Mishra
It's late in the afternoon, after a heavy lunch at one of the numerous cafés that dot the roads of McLeod Ganj and Dharamshala. My mother sits with a mug of ginger lemon green tea cupped between her palms. Soft curls of vapor emanate from it. I stare at a photograph of Dalai Lama hanging on the wall next to our table as my mother's phone buzzes with a text message.
"It's one of your aunts from Delhi enquiring if I am in the hills with you." I do not roll my eyes, but my mother can sense my annoyance at my aunt. She doesn't say a word, just sets the phone aside. I continue staring, as if to make her say what she doesn't want to. "I can't handle these conversations with your father's sisters. I told her I am in Delhi, staying with you for a week."
Why would my aunt send that message in the first place? Then, I remember that I had posted a photo of my mother on Instagram. We had just climbed to the top of the Namgyal Monastery, sitting on a bench. She was looking at the horizon, oblivious to the gaggle of people around her, her eyes piercing the distance as if she had noticed something nobody else had. I had thought the post would slip furtively unnoticed, but my aunt, sitting in Delhi, had noticed and decided to make enquiries.
My mother and I had never traveled together by ourselves before. She had always been working much too hard. In fact, this trip had happened rather suddenly, on short notice. It was the month of June when temperatures in Delhi would reach 48 degrees Celsius. I picked this touristy town in the lap of the Himalayas because I knew the place like the back of my hand and my mother had never seen this part of the state.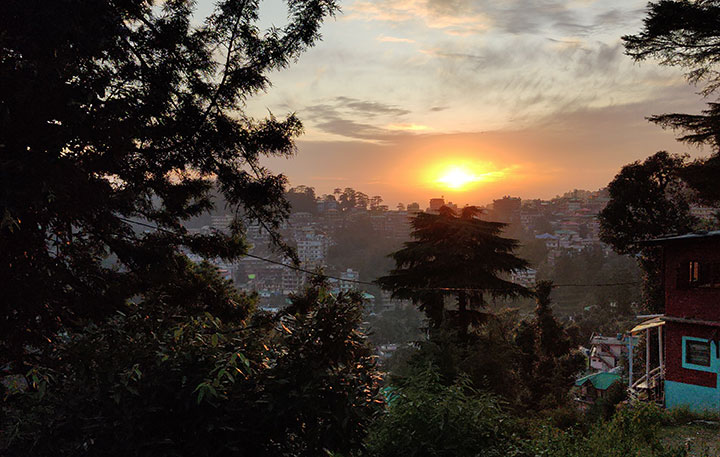 Growing up in a provincial small town in North India, a vacation was a rare treat. A lot of factors had to come together: money, school holidays, train tickets, cheap but good hotels, and leave from work. We did take one holiday every year as a family, but it came with its own limitations. With our vacation schedules packed to the T, we barely understood that the essence of a vacation was unwinding from the timetables that dominated our everyday lives. Our hectic vacations ended up mirroring our lives at home, always repeating vacations from previous years. 
Gradually, as we children grew up, family vacations came to an end. We started looking forward to a cozy holiday season at home. My mother's work kept her busy. Working in the highly demanding marketing department of a national insurance company, she rose steadily through the ranks. While I switched four jobs in the first five years of my working life, my mother worked in the same office for a good 34 years. All that time, she also managed our home masterfully. My father and she rarely went away on vacations of their own. It never occurred to her to take a vacation—by herself or with her friends or with her children. That was not the kind of indulgence she would give in to.

My own job as a copyeditor and fact-checker for one of India's leading lifestyle magazines had taught me the importance of saving time. I put in almost factory-like work hours and whatever little time I got to myself at the end of the day, I spent it writing crabby notes in a journal or watching movies in bed while falling asleep. Still, I managed to scoop one full reading hour out of this busyness. En route to the office every day and back, in shared Uber rides, I read. The summer before my vacation with my mother, I had read Deborah Levy's Hot Milk. In the scorching May-June Delhi heat, I sat in the passenger seat, turning page after page of the shimmering prose. The minutiae of life seldom mirror art, but in those blissful few hours, everything seemed to coalesce. I moved on to The Cost of Living, feeling a certain level-headedness. Levy made it look easy. The beauty in everydayness shining bright through her lens convinced me to look at life itself differently. It gave me the courage to think about what time means to women.
In 2018 December, after 34 years of continued service, my mother retired from her job. But her life in retirement was as busy as her working life had been, with our extended family and their needs promptly taking over what used to be her work hours. She took care of visiting relatives, fed them, and played the perfect hostess. My father had retired four years before, but only to her fell the quiet, invisible job of keeping all the extended family relationships well-oiled.
Watching my mother work so hard in her life as well as in her retirement, I started thinking of a vacation for just the two of us. It began as a patchy afterthought. The friends in my circles vacationed with other friends. A vacation with your mother was unheard of. In our large extended family, women did not simply take off from their household duties. My aunts—mother's sisters-in-law—had never gone on a holiday where they were not also taking care of their families. And of course, I knew that my mother herself had no sense of demarcation between life and vacation. She has a remarkable ability to not enjoy life, to feel guilty. She will not even laugh, unless others in the room do.
Then I thought of those evenings in my childhood when my mother told us about her childhood. After feeding us dinner, she would snatch a few hours here and there to tell us about the village where she had grown up, the home where she had watched her mother die of stomach cancer. Her father remarried. My mother did not get along with his new wife. Her stepmother could not wait to marry her off as soon as she finished class ten. My mother had other plans. She wanted college, a job, a career.
One morning, my mother decided to run away to my aunt's house in the nearby town.
"It was hard to make that call, but when you're young, a lot seems possible," she remembered. "The doodhwaale chacha (milkman) who used to come every morning to our house would also go to my aunt's house in the city in late mornings. I had kept a log of his timing and on that fortuitous morning I just asked him if he'd take me with him to her house. He laughed and agreed. Perhaps he'd sensed my unrest."
She clutched her sandals in her hand and sat on the bar of the cycle, her feet dangling on one side for the journey as he rode the highway to her aunt's house. After her arrival, her aunt wrote a taar (telegram) to her father in the village, asking him to send over some of her clothes and whatever books and notebooks she had. My mother began a new life. She made my aunt's home the ground beneath her feet. As she recalled this, a happy glow beamed from her face. The joy of escaping the intolerable.
When I read about Levy renting a shed from a friend in order to write, the shed to which she bicycles each day and where she writes all her books, I thought of my mother sitting on the bar of the cycle, escaping to my aunt's home. Both Levy and my mother learned to unlearn what it means to live life as a woman bound by other people's expectations. The quiet battles they fought in a different era, the way they separated the wheat from the chaff, gave me hope.
"I just knew I had to get out of there to be able to live. My stepmother was making life hell for me. Both my siblings were agreeable to a life in the village, with no proper education, no college and no jobs, I wanted all of this and more. I wanted to have a life of my own. So instead of waiting for things to happen, I just got out of there. With no plan, no precedent, I decided to write my own destiny," she tells me over a cup of chai one night during our vacation.
When Levy asks, "What would it cost to step out of character and stop the story?" I know exactly what she's talking about. My mother's life took its real shape only after she stepped out the character she ought to have lived. She decided to leave her sister and brother and stepmother behind. She chose to walk out of a life that was already resigned to not much. She dared herself. Much like Levy who comes to understand that "the writing life is mostly about stamina," my mother learned her primal life lessons on her own. Both women, I thought, had to create a person, a character who, as Levy writes, "was braver than (they) actually felt." But for my mother, that choice did not include time off to relax, to dream.
In my childhood, my mother was my North Star, my Jupiter, my guiding light. Growing up, my world was the smell behind her ears, the softness of her feet, the quiet jangle of her glass bangles. I bloomed under her kisses, at the sleepy word beti (little one) that she would murmur groggily into my ears as she put me to sleep every night. It was in these moments that my roots, as strong as an oak tree's, unfurled into the ground underneath me. I created my life in her shade. Then I grew up, left home, finished university education, hopped cities and then took up a job, leaving her behind. I jumped from Chennai to Cardiff to Pune to Coimbatore, eventually landing in Delhi, while she continued with her quiet life, several hours away in Kanpur.
For a while now, my mother had talked of coming to Delhi to visit me. But I knew this would hardly be a vacation for her. She would spend the day doing chores while I worked my 12-hour days. So, I made an impulsive decision, put my foot down, and booked a plush room in a hotel, a resort of sorts in a mountain town that I had visited before. It was a simple hotel, but with a little bit of padding. Nothing too expensive, nothing that I wouldn't be able to afford on my own. My mother insisted on paying for it, but after a long, tiring argument, we agreed to split the cost.
The hotel is a colonial relic maintained well. Clean and fresh smelling. Looking at the plushness of the hotel's clean corridors, my mother comments on how she could never afford a vacation like this with my father. "I always wanted to stay in such hotels when on vacations. It felt so different, to be able to explore these new places. I also wanted to keep moving houses, if not cities. But your father was never up for either. So now when you move cities every few years, I feel good, vicariously living my dream through you," she smiles. I think of the ways in which Levy learns to wrest control of her life throughout the memoir.
"To speak up," Levy writes, "is not about speaking louder, it is about feeling entitled to voice a wish."
In the mornings and evenings, we would sit on the hotel's lawn, gaze into the rising and setting sun, taking in the smell of flowers and freshly manicured grass. Then, after a lunch of heavy Himachali food, the afternoon would melt us into a deep languor of sleep. Waking up to the sober Dharamshala sun around 4 o'clock, our day of explorations would begin. Time became elastic as it did for Levy in the shed, shutting out the world to find the freedom to write.

For my mother, time has always passed quickly. Her quicksand non-work hours were always divided between specific household chores.  At a time when none of my friends' mothers were working, my mother often worked overtime. There was never a day for leisure.  But here she was now, sitting with a cup of chai across from me, ignoring my aunt's text message. We both knew that there was resentment in that message. My aunt must have felt surprised and then indignant when she saw my Instagram post, the picture of my mother doing nothing. 
Having begun her married life in a joint family, my mother considered herself the primary caretaker of my father's family as well. And they got used to leaning on her—confident that she would always be waiting to take care of them, host them, give them her days. On the few occasions when my father encouraged her to go on a vacation with me, she winced and came up with excuses.
"Why don't we all go?"
"I have this office training session that weekend."
"I need to be with your father."
"Your aunt and her family are coming over for a week."
And this is why she ignores my aunt's text now. She doesn't want to add salt to the resentment my aunt must be feeling. In fact, my mother simply does not know how to tell someone else that she is taking a break from her life and its many obligations. And why should she? Isn't this the whole point of this vacation—to not have to justify her existence? We ignore the phone and the conversations it represents and sip our chai.
We have started marking our day by the chai here, in this small hole-in-the-wall eatery across the road from our hotel that serves delicious aaloo and paneer parathas and other Himachali fare. Two cups of chai in the morning, one after lunch. We are remaking time as Levy did in her shed. By simply doing nothing, by enjoying being herself, my mother is finding again the girl she was, the one who ran away to her aunt's house, the one who knew she was not a sacrifice for the domestic.
She sits across from me wrapped in her oldest, warmest black shawl. Levy wore pearls to her shed because when the words arrived, she wanted to look smart. She did not want her words to go to sleep because she looked like a rag. Levy wanted to write poetry "in a velvet smoking jacket, waiting for inspiration to ravish me as the fragrant wood crackled and popped." 
"I never want to leave this place," my mother says, and perhaps she is talking about the heavenly aloo parathas they serve. But as she sits in the sun, quietly descending into a thrum of her own thoughts, I know she is talking about something else. 
On our last day, I wait at the reception area of the hotel, our luggage amassed, like our collective courage. When the taxi arrives, I quickly put away the bags, and wait for my mother to check out of her room. When I see her arrive from a distance, I remember my first birthday after I started going to school. My mother had taken a rare half-day off and had come directly to school to pick me up. She waited at the gate, wearing a lovely pink and black sari, and as I saw her, my heart almost exploded with joy. Seeing her on a weekday before 5 o'clock was completely unprecedented and truly the best birthday gift for me. I don't remember her taking a half-day day off ever after that.
Now at the hotel gate, I have a sudden impulse. I run to the nearest roadside shop to buy a kurti for her. With child-like caprice, she quickly excuses herself and returns to the hotel lobby washroom and changes into the new garment. The blue of her kurti fills us both with a levity, a fulfilment.
As the taxi drifted slowly up and down the mountainous terrains of the Himalayas, my mother lay down and rested her head on my lap. I watched the landscapes recede into the background and listened to quiet music on the earphones. We would soon hit the plains, where the arid heat would catch in our throats. I arranged a couple of water bottles in the seat pocket. My mother would return to her domestic routines and I to my crushing magazine deadlines. Nothing had changed. Or had it? As Levy writes, "The destination was to head towards a freer life. That is a vague destination, no one knows what it looks like when we get there. It is a journey without end, but I did not know that then. I was just on my way. Where else was there to head for? I was young and lovely, I boarded that train, opened my journal and began to write in the first person and the third person."
---
Anandi Mishra is a Delhi-based writer and communications professional who has worked as a reporter for The Times of India and The Hindu. Her writing has also been published by or is forthcoming in Popula, Mint, Los Angeles Review of Books, 3AM Magazine, Transformations, RejectionLit, Berfrois, and others. Her essay, "A Satyajit Ray Lockdown," appears in the anthology Garden Among Fires (Dodo Ink, July 2020). Follow her on Twitter @anandi010.
Top photo by Karan Sharma, bottom photo courtesy of author